Address: 721 Warrigal Rd, Chadstone Victoria 3148 Australia
Tel: 61-3-(9807-7888) Fax: 61-3-(9807-8858) Mob: 0418-844-364 - Email:
sales@decomirrors.com
Mirrors|Art deco mirrors|Bathroom mirrors|Art deco furniture|mirror designs by Guy Molloy
FLORENTINE

MIRRORS - Distressed mirror tiles and table tops

See also Out Door Mirrors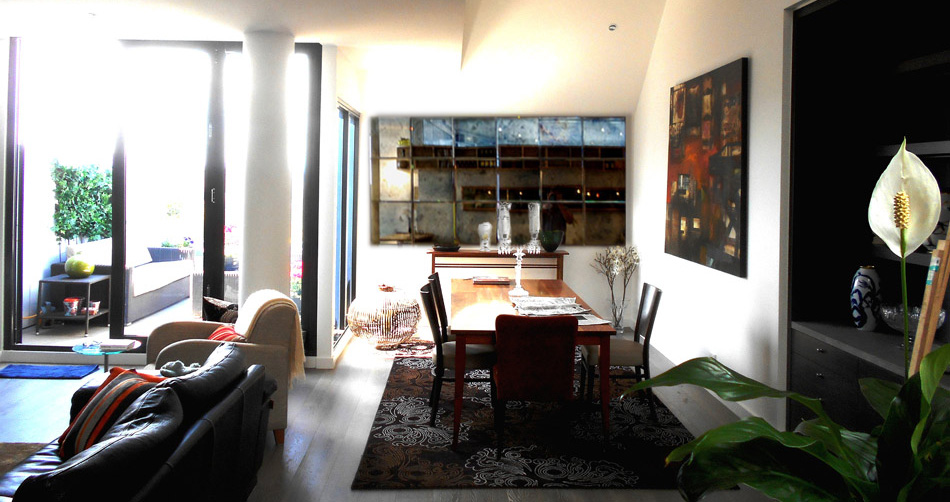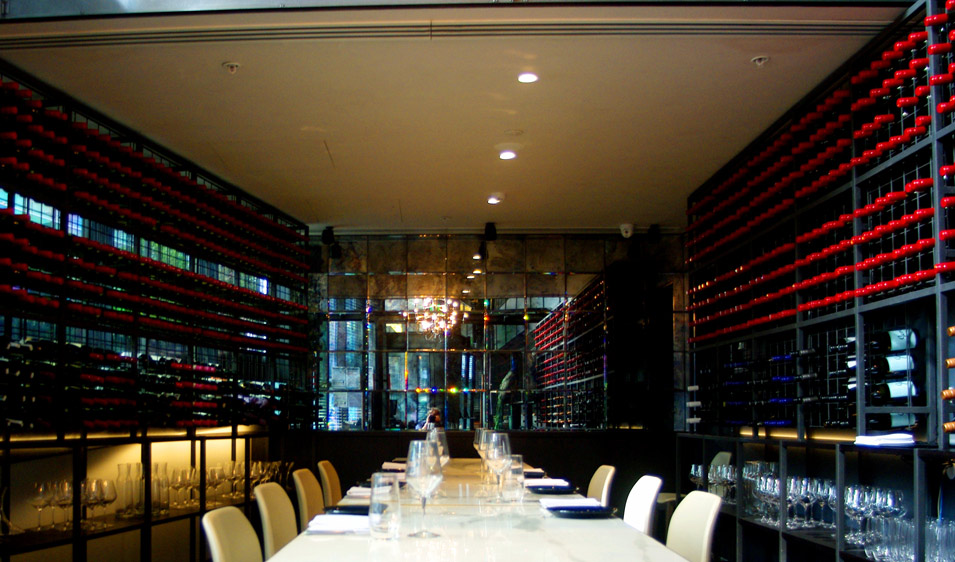 50 x 300 x 300 mm Florentine distressed mirror tiles
The Cellar private dining room.
Chiara Italian restaurant 705 Collins Street Melbourne 3000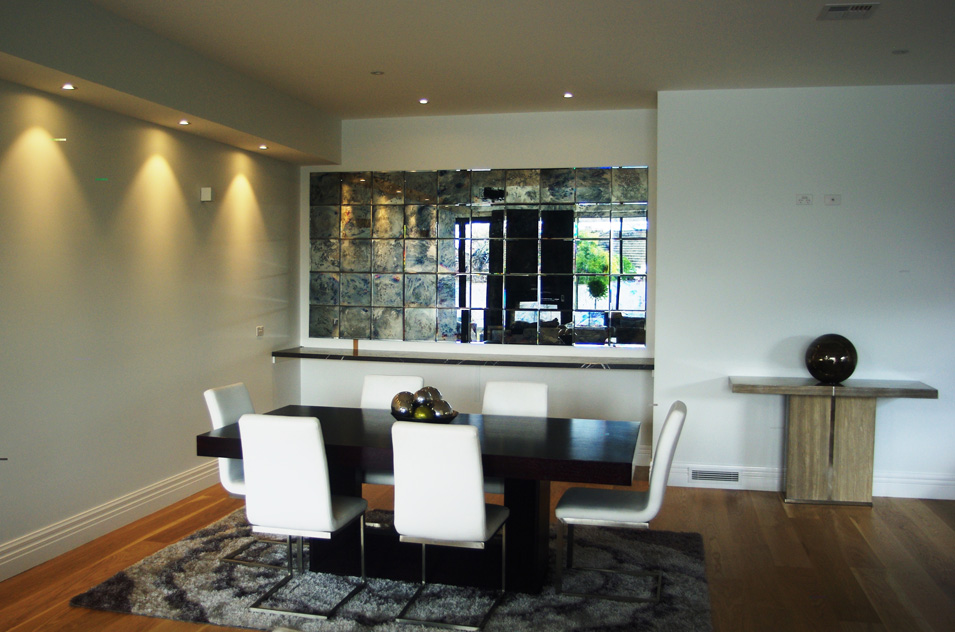 Peter & Sonya's masterpiece - East Bentleigh Victoria.
50 x Florentine mirror tiles 300 x 300 mm with 10 mm bevelled edges.
Manufactured and installed by The Manhattan Mirror Chadstone Victoria.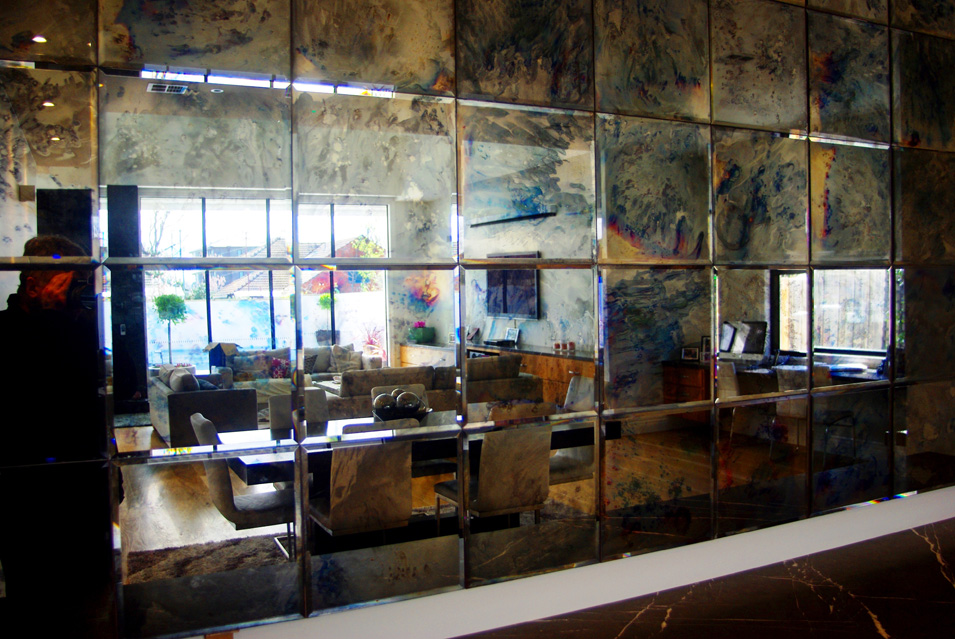 A celebration of rich vibrant colours complements this contemporary dining room setting.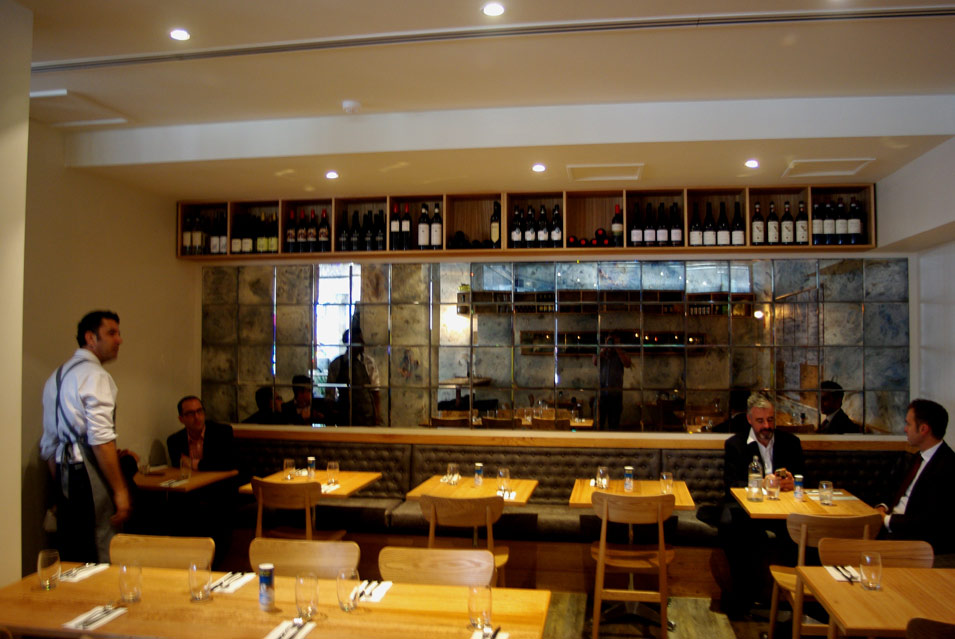 Burto's Bar 180 William Street, Melbourne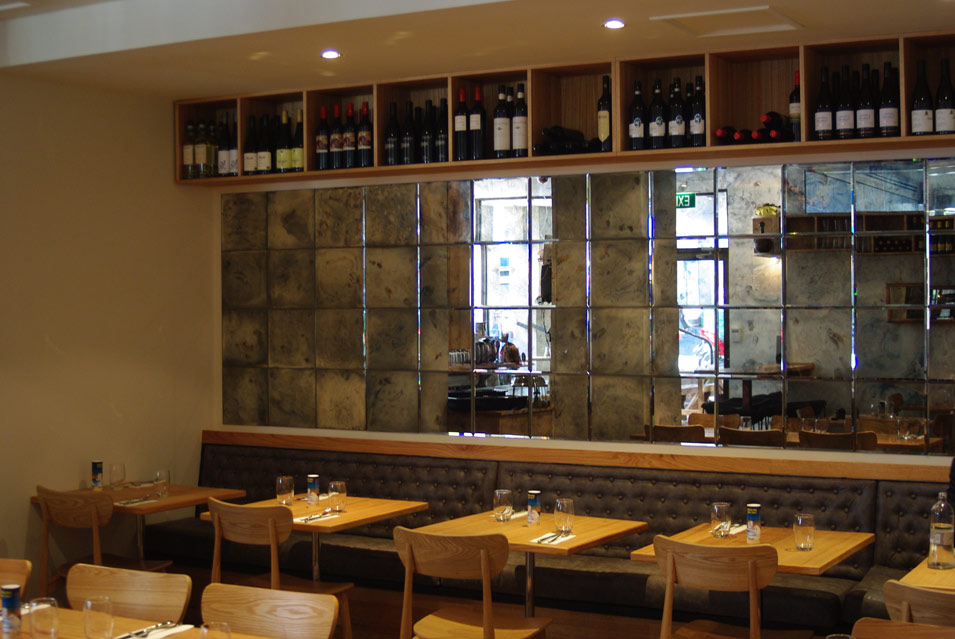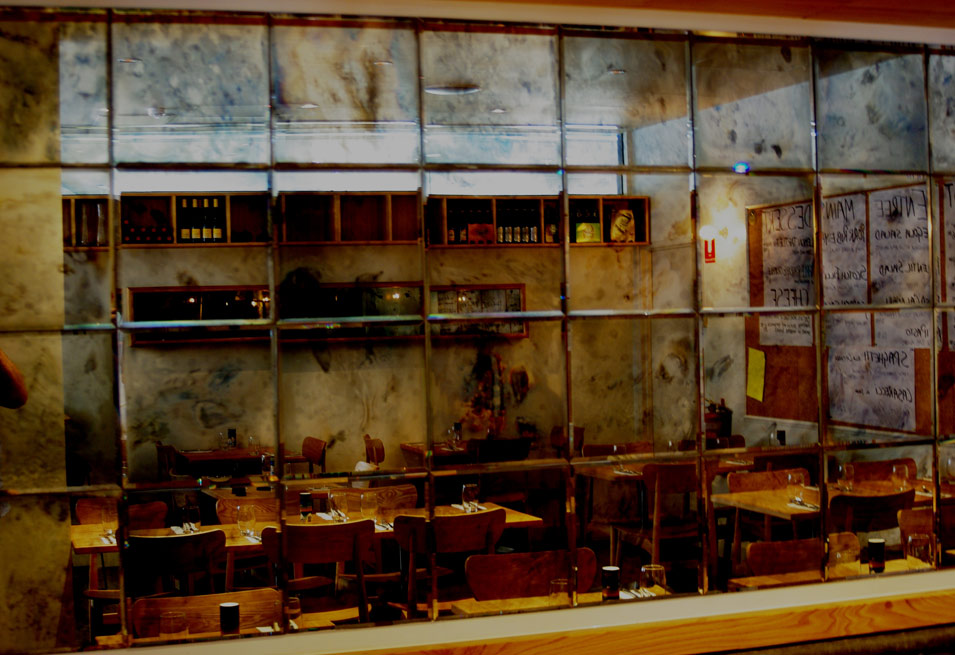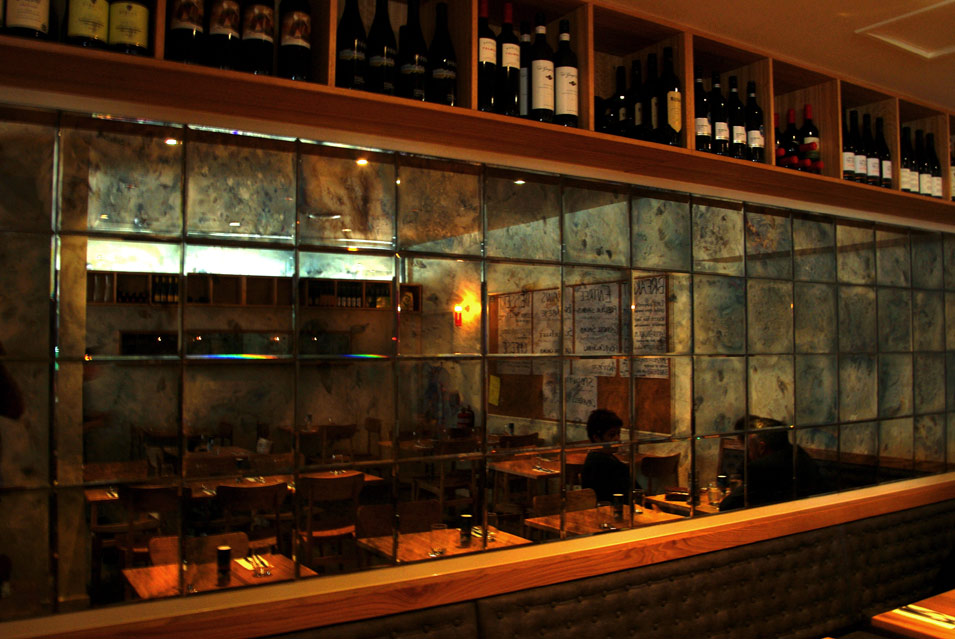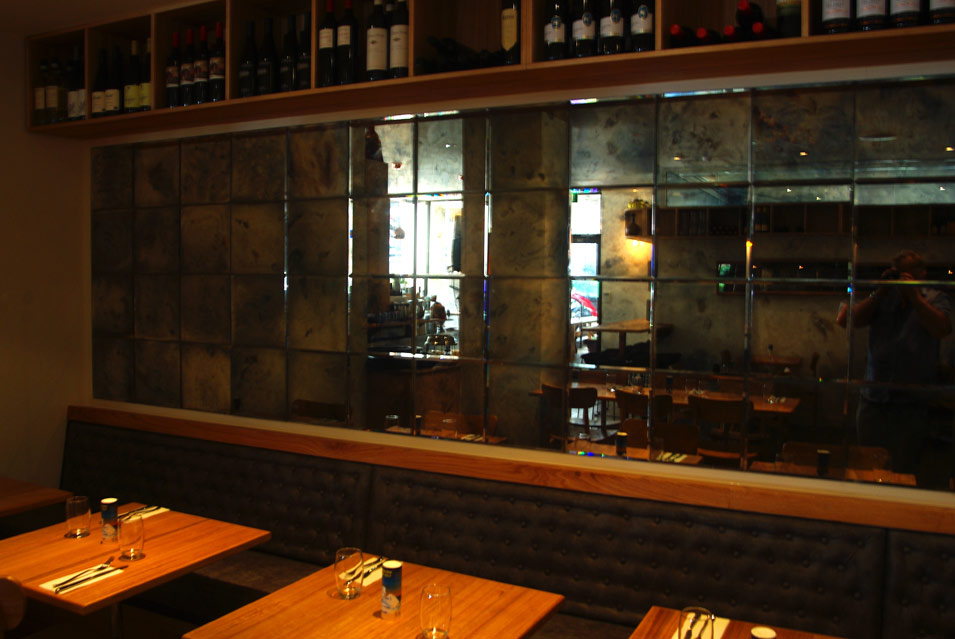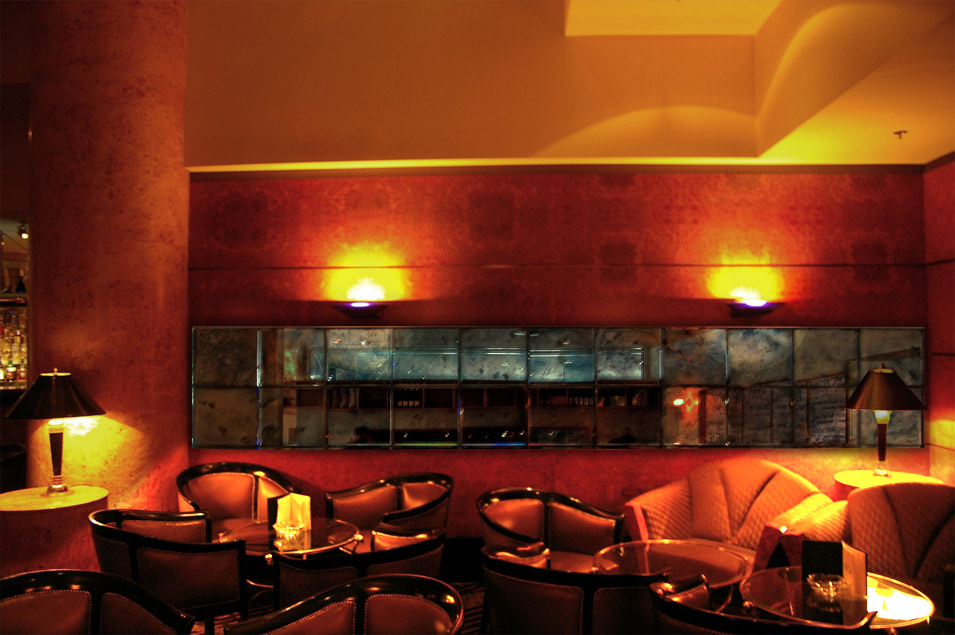 Our Florentine distressed bevelled mirror tiles 300 x 300mm deliver a delightful rich ambience to this Art Deco cocktail bar.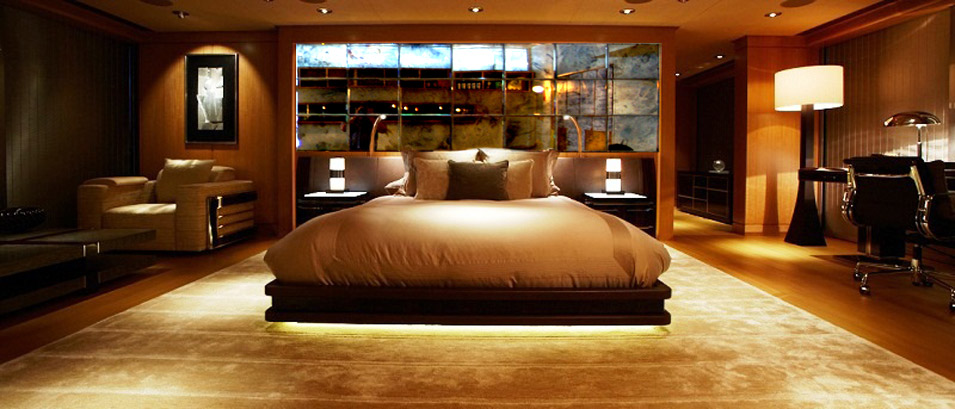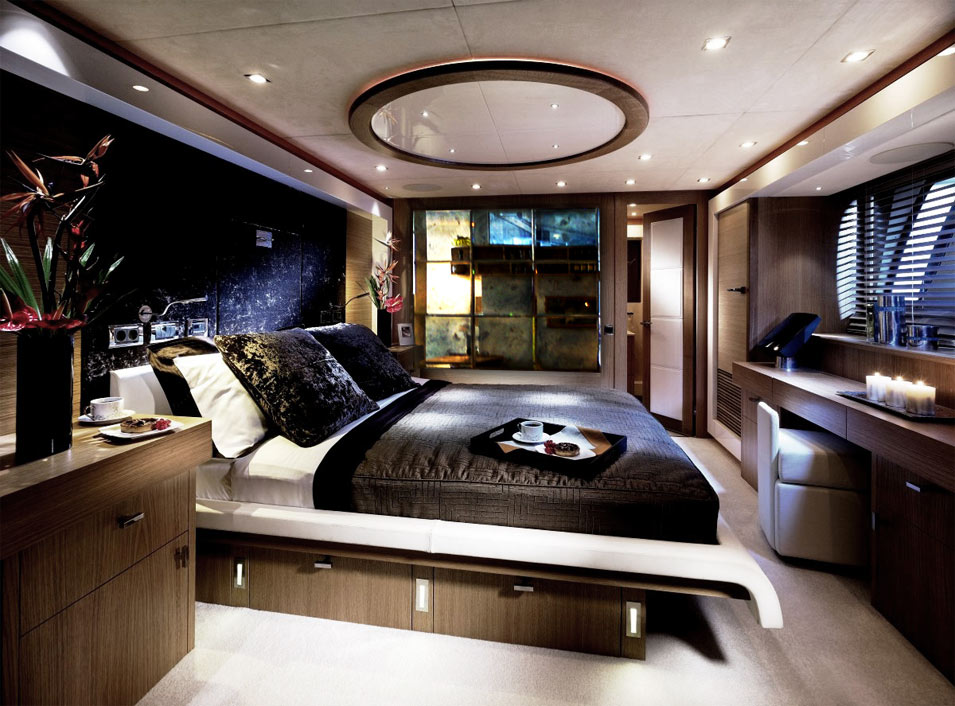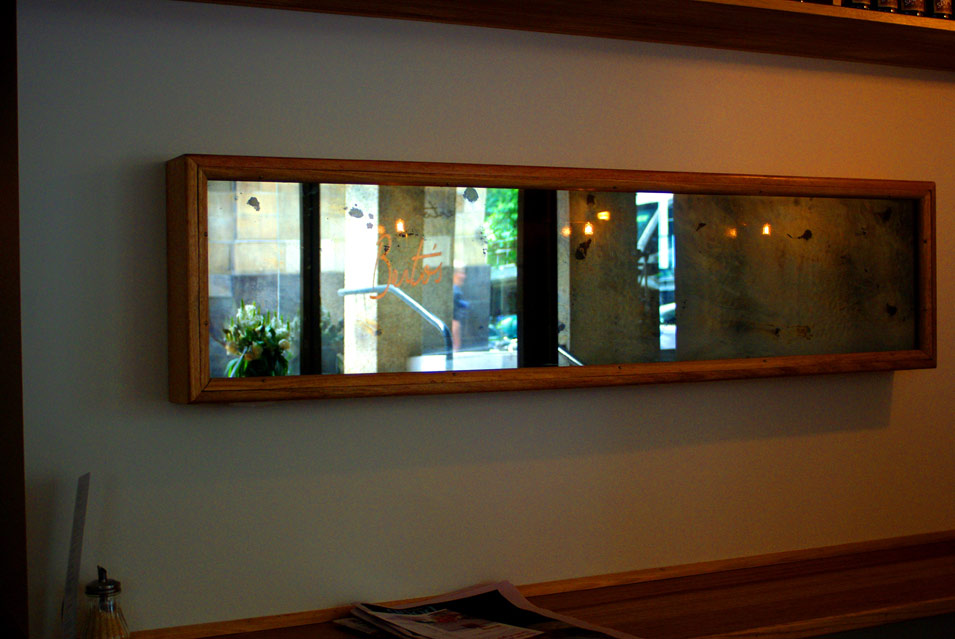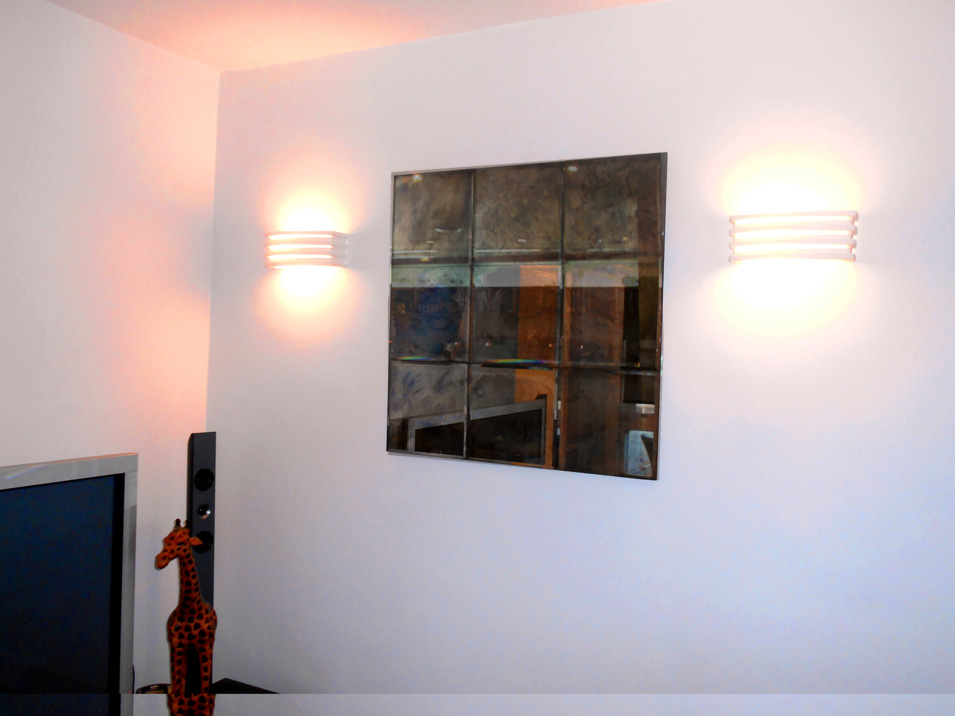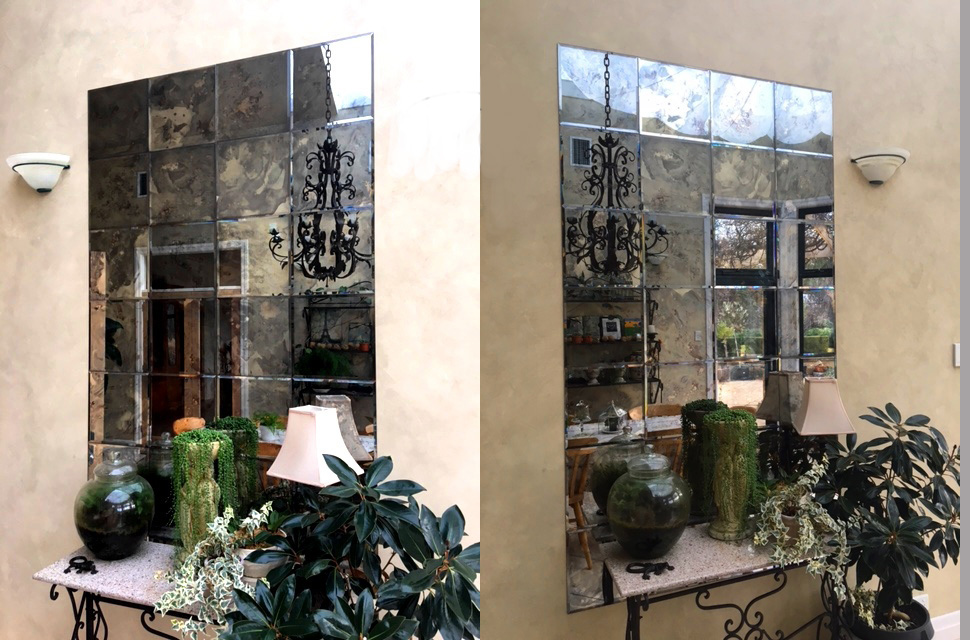 What is distressed mirror?

Distressed mirror is silvered glass than has been manipulated by use of a chemical reaction to produce abstract mirror designs on glass.
Distressed mirror/ Fauxed mirror/ Antique mirror are the most common names to describe this technique.
There are 3 x methods to distress a mirror.

1 : By chemically corroding an all ready silvered mirror.
This is done by stripping the paint to expose the silver then adding a corrosive liquid like Ammonia or Chlorine to the silvered side.
This method is commonly used by the experimenter or hobbyist, the result is usually disappointing.

2 : The second method is to place an inhibiting substance to the glass before the normal silvering process takes place, this may include Calcium Carbonate - Urea - Stannous Chloride - Zinc Oxide.
The silver will not be able to adhere to the glass normally and will leave varying degrees of grayish
dark patches - spots - clouds and streaking on the mirror.
This method is favoured by companies that manufacture bulk commercially distressed mirrors on the silvering line.
The down side to this method is that it can give an unimpressive mono carpet like appearance.

3 : The third method for distressing mirrors called Florentine mirror the method used by
The Manhattan Mirror Co Melbourne is to carefully manipulate metallic chemicals into the silver during the silvering process.
Trace elements of cobalt - copper - gold - tin etc can be extracted and formed on the glass as the silver is reduced from silver nitrate to pure silver.

There are only a handful of Artisans currently in Australia performing this type of work.
Florentine distressed mirror can be used on glass dining tables - coffee tables - feature mirror walls - splashbacks - bathroom wall and floor tiles and outdoor mirrors.
A variety of edge work is available from the Manhattan Mirror Co and includes flat polished edges - bevelled edges – or the very smart Triple C edges as per sample.

What's Hot at the Moment: 15mm or 19mm Thick Dining table Tops Silvered Florentine Style Mirror with a Triple C Edge All Round.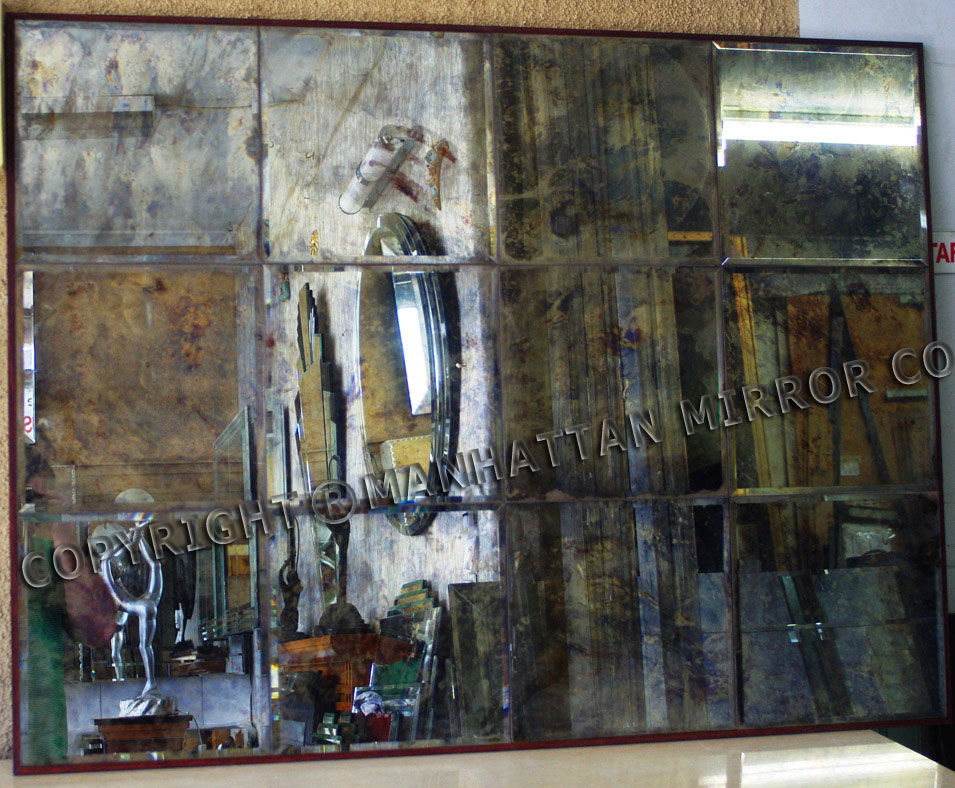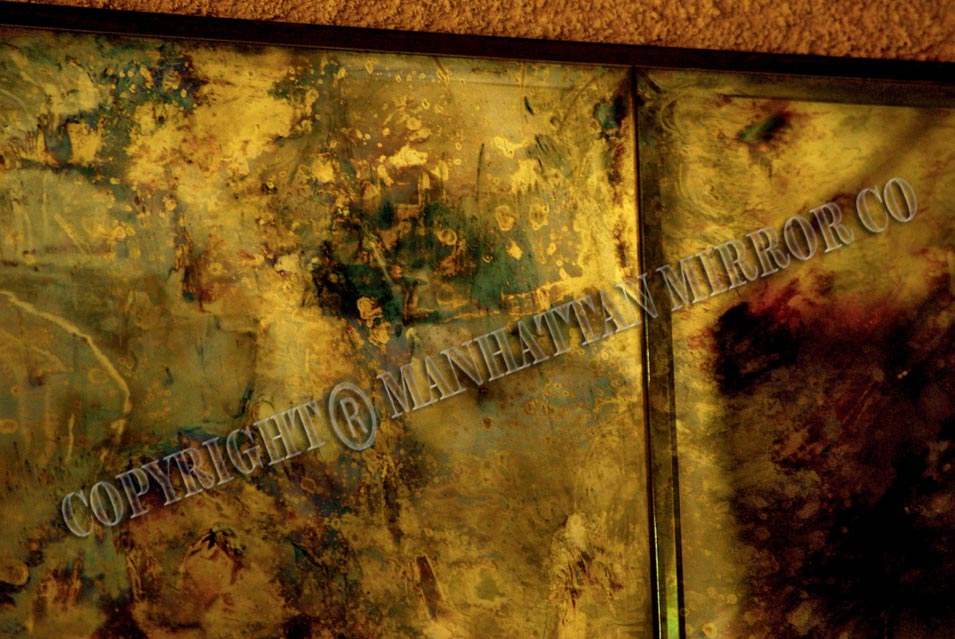 The Manhattan Mirror Co manufactures & delivers Australia wide antique / distressed / fauxed mirror / glass tiles & coffee / dining table tops made to size at no extra cost.
Price guide:
12 mm toughened florentine distressed mirror glass table top 8 seater 3000 x 1000 mm > $1750
If you imported this table from Italy, you would pay over $5000.
Bevelled distressed mirror tiles 300 x 300 mm > $37 each.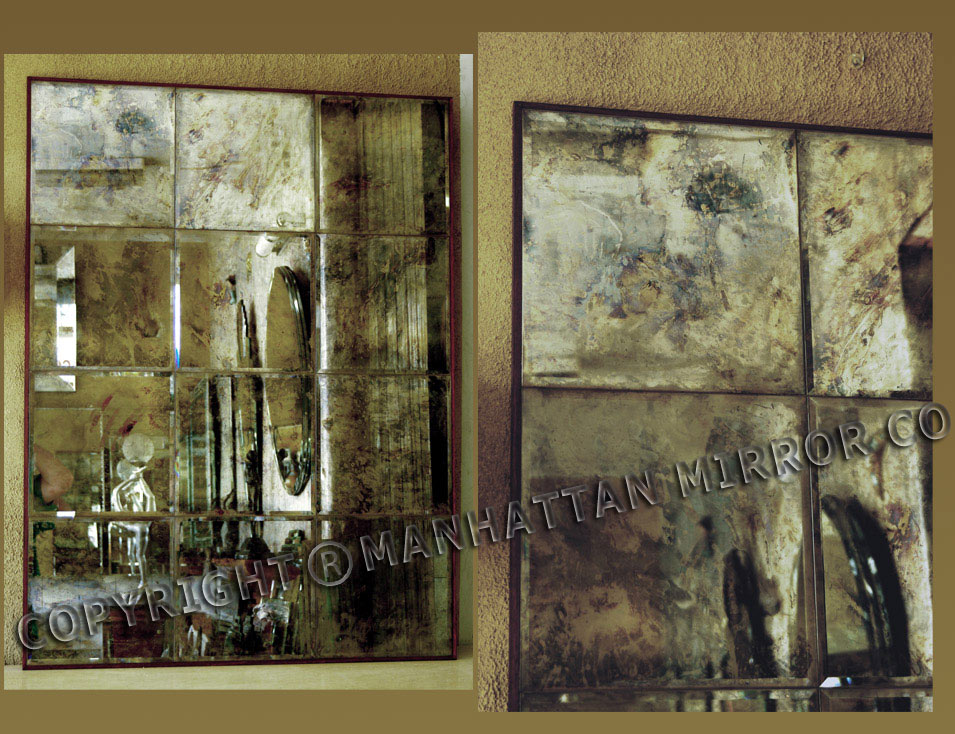 Our Florentine distressed tiles size, 300mm x 300mm, includes 10mm beveled edges , hand silvered on 4mm clear float glass. Every tile is unique.
Customers are welcomed to come to our Melbourne showroom (721 Warrigal Road, Chadstone 3148), and hand pick your own tiles.
We can mount these impressive pieces of art on a backing board complete with beveled timber mounting brackets or an adjustable link chain.
Individual tiles can be purchased at $37.50 each.
Popular sizes ready to hang with wall mount fixtures.


| | |
| --- | --- |
| Sizes | Price |
| 300 x 900 | $160 |
| 600 x 600 | $195 |
| 600 x 900 | $285 |
| 600 x 1200 | $345 |
| 600 x 1500 | $445 |
| 900 x 900 | $435 |
| 900 x 1200 | $525 |
| 900 x 1500 | $690 |
| 1200 x 1200 | $675 |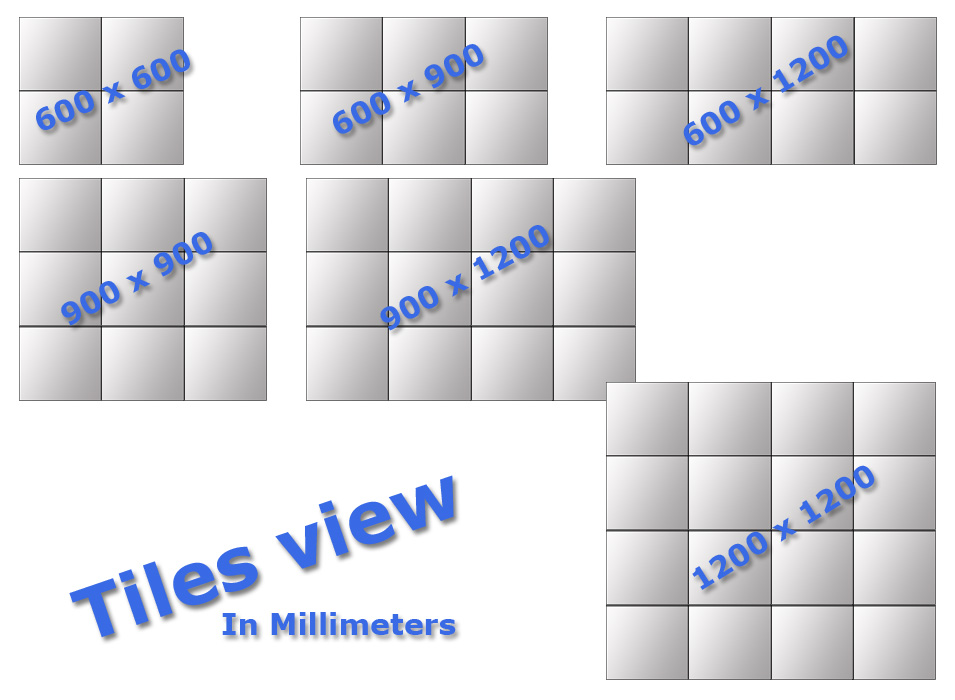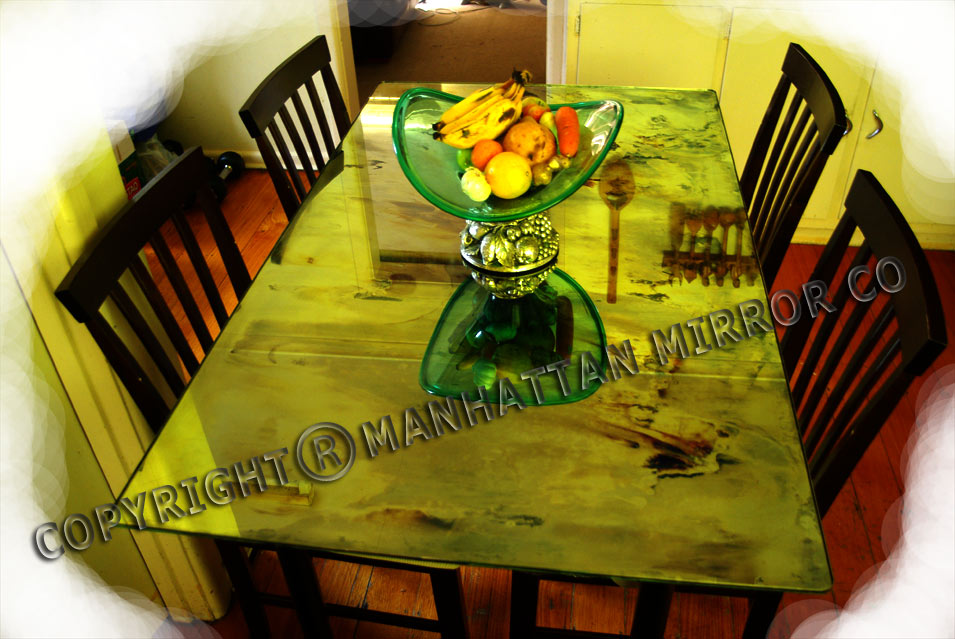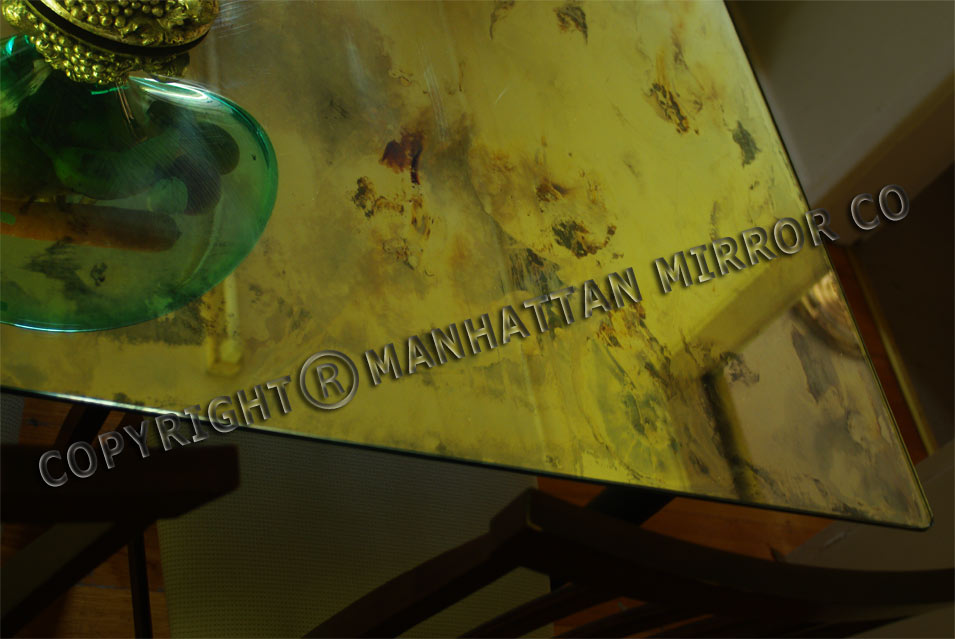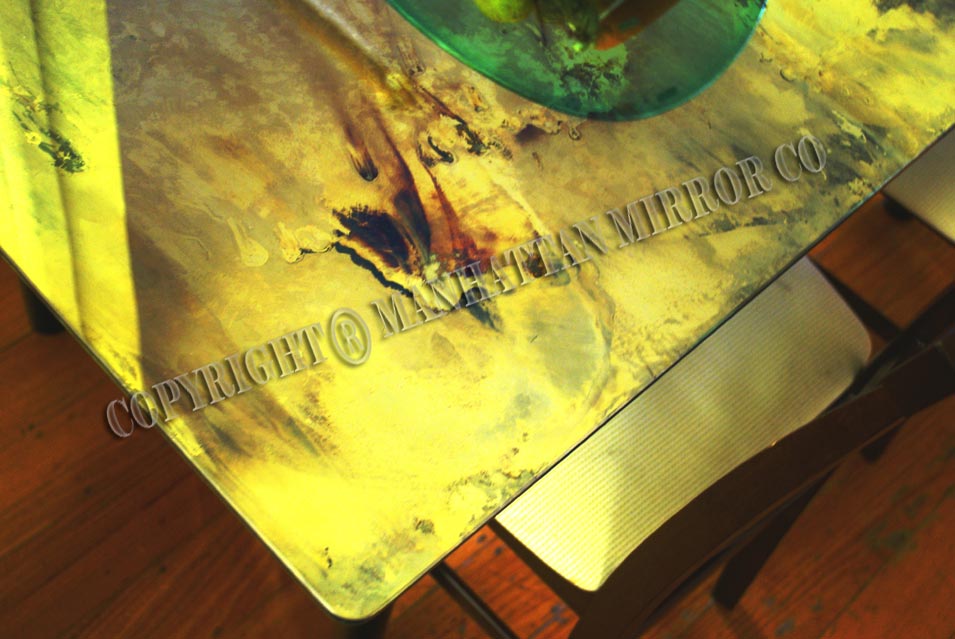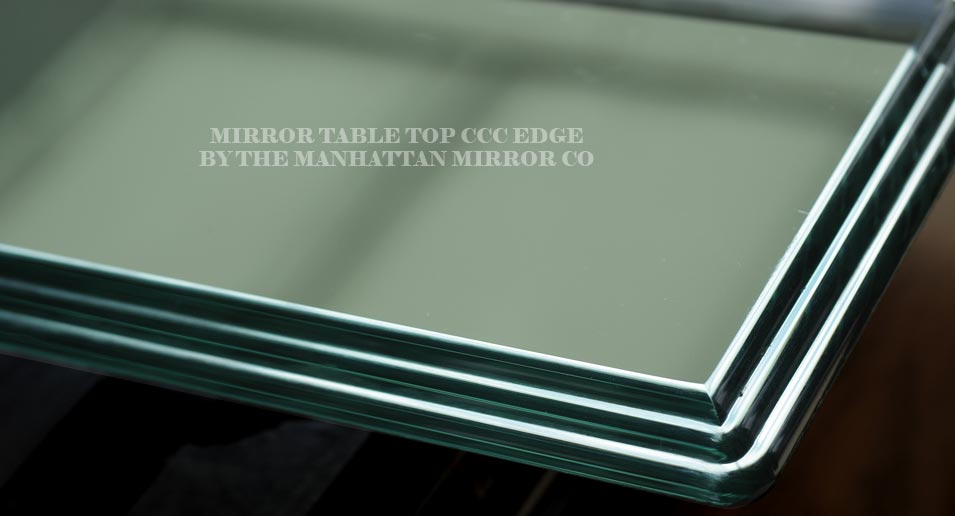 Border mirror tiles
Decorating with distressed glass mirror tiles can open up a small bathroom and give your room that special relaxed elegance.
Our unique 10 mm toughened Florentine bathroom mirror floor tiles will unequivocally out-smart everyone else's bathroom.
Table Top Prices … Australia wide delivery
Mirrors | Bathroom cabinets | Splashbacks | Furniture | Accessories | HOME

How about replacing that boring old framed mantle mirror with a one piece
custom measured antique style distressed mirror.
This mirror has a 30 mm bevelled edge, 9 mm backing board and
measures 1400 x 1400 mm.Cost: $750 including installation in Kew Victoria.
The Manhattan Mirror Co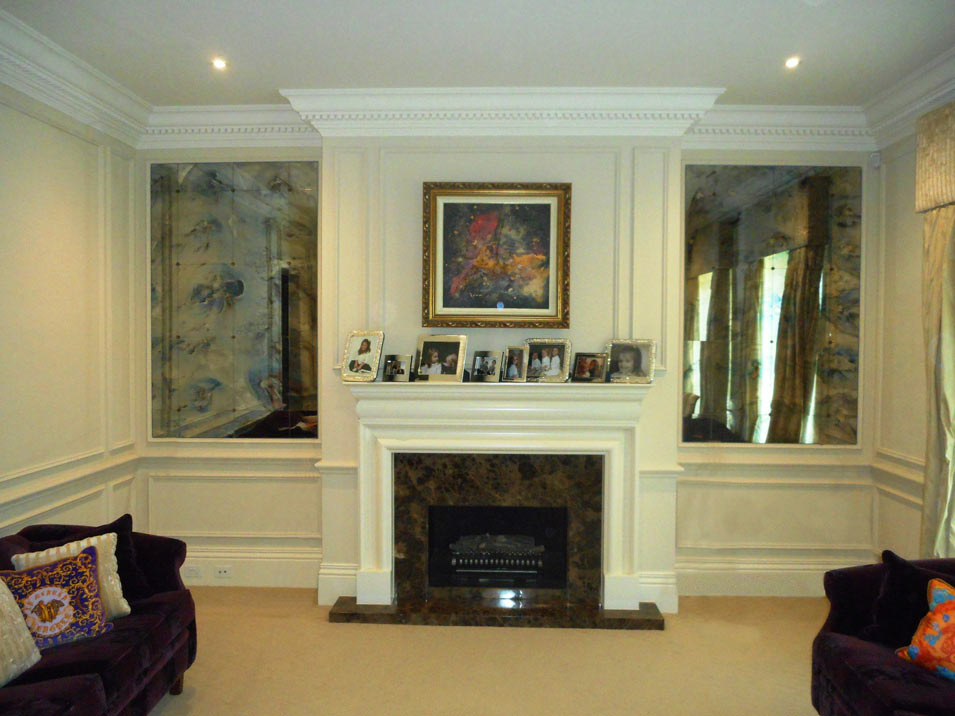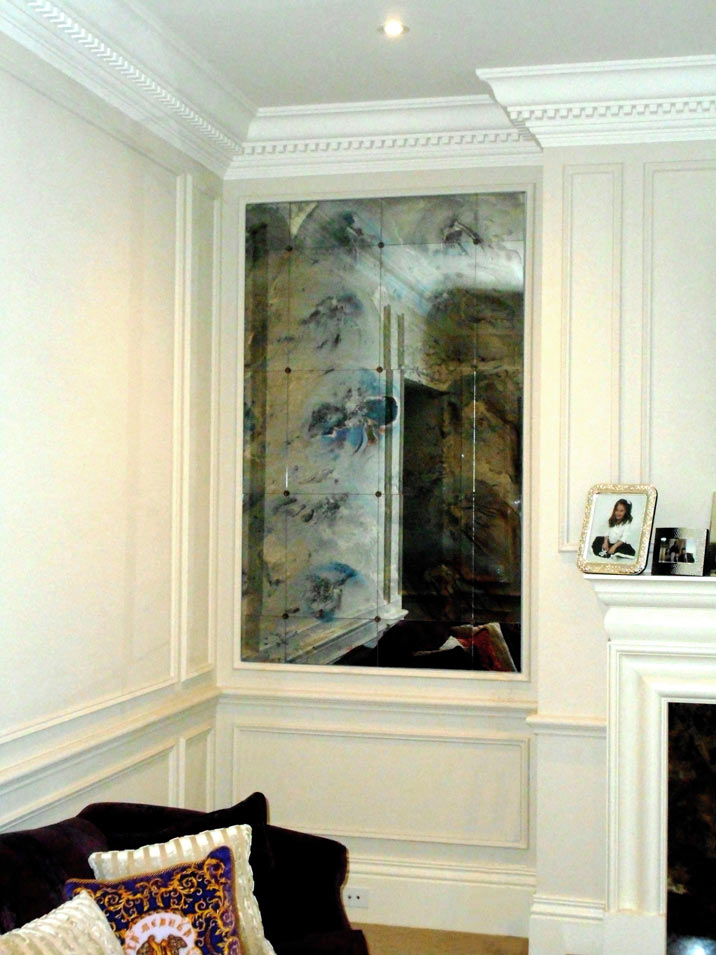 Distressed Florentine panels custom made for the Herszbergs residence Melbourne
Mirrors | Bathroom cabinets | Splashbacks | Furniture | Accessories | HOME




Go to top of page