Address: 721 Warrigal Rd, Chadstone Victoria 3148 Australia
Tel: 61-3-(9807-7888) Fax: 61-3-(9807-8858) Mob: 0418-844-364 - Email:
sales@decomirrors.com
Wonderful bathroom shaving / medicine cabinets made in Melbourne - Sydney delivery
BATHROOM SHAVING MEDICINE CABINET WITH MIRROR SIDES MELBOURNE SYDNEY
The Manhattan Mirror Co Melbourne/ Sydney manufactures bathroom shaving/medicine cabinets with mirror sides. Custom made bathroom mirror cabinets are our specialty.
Custom made bathroom mirrors
The Manhattan Mirror Co Melbourne Sydney is Australia's largest manufacturer of custom cut feature designer bathroom mirrors in modern or art deco style made to measure and delivered Australia wide. Buy mirrors on line or let us quote your own sizes.
All bathroom mirrors made by the Manhattan Mirror Co have our own exclusive hot wax moisture protective treatment . Most modern multi bevelled frameless mirrors that you might buy online or from a framing shop are imported wall mirrors not bathroom mirrors.
Putting an unprotected frameless wall mirror in a bathroom will usually
result in unsightly oxidation of the edges in time.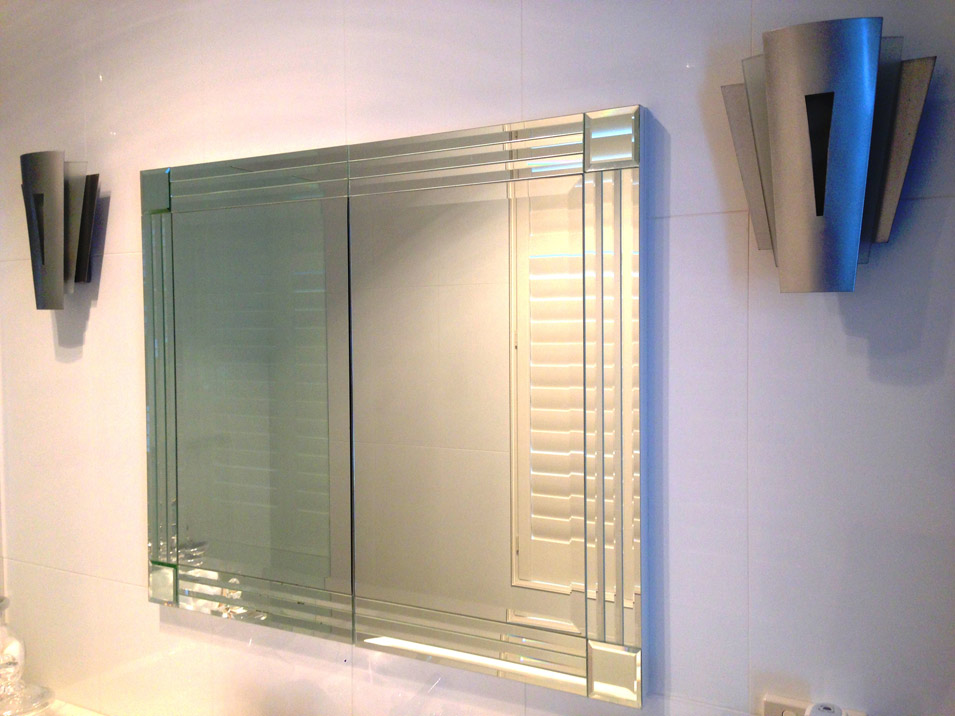 750 x 1200 mm Superior cabinet recessed into the wall
Please move mouse over pictures to enlarge ...
Standard bathroom cabinet.
The popular cabinet comes with 3 X adjustable glass shelves.
It can be recessed in the wall or screwed directly on to a tiled or plaster wall.
The standard bathroom cabinet also comes with optional mirror side panels.
600 mm wide X 750 mm in hight X 116 mm D. Price $490.00 for single door.
Superior bathroom cabinet.
These highly stylized contemporary shaving / medicine bathroom cabinets can be recessed into a cavity in the wall or simply screwed straight on to the existing plaster or tiled wall.
All 3 cabinet sizes come with optional mirror side panels and standard soft close hinges.
If you are designing a new bathroom or simply updating, a superior bathroom cabinet will definitely separate your bathroom from the rest.
Custom made sizes are available.
750 mm height x 450 mm width x 120 mm single door ... Price: $675
750 mm height x 600 mm width x 120 mm single door ... Price: $950
750 mm height x 750 mm width x 120 mm double door ... Price: $1150
750 mm height x 900 mm width x 120 mm double door ... Price: $1390
750 mm height x 1200 mm width x 120 mm double door ... Price: $1550
Mirrors|Art deco mirrors|Bathroom mirrors|Art deco furniture|Shaving Cabinets|mirror designs by Guy Molloy